Protection > Polycarbonate
Polycarbonate
Should be made to follow the shape of the window. Must be fixed to allow for ventilation and expansion and to be fixed with none rust clips and screws.
Advantages
Can be inexpensive compared to wire guards.
Will stop large/small stones, air gun pellets and its a better defence against attack.
Can act like a thermal insulator taking the direct cold face away from the stained glass.
Can be removed for the maintenance of the stone work or the glass.
Can be fixed to match the joint or saddle bars in the stained glass windows.
Disadvantages
Prolonged attack can mark or scratch the surface but we have not yet seen any broken.
With age, inferior types can take on a milky appearance but if a good U.V stabilized polycarbonate is used this will not happen.
The reflective sheet can be off putting.
Has flammability if exposed to high temperatures.
This picture shows the old glass over glazing on the left window and the newly fitted polycarbonate on the right window.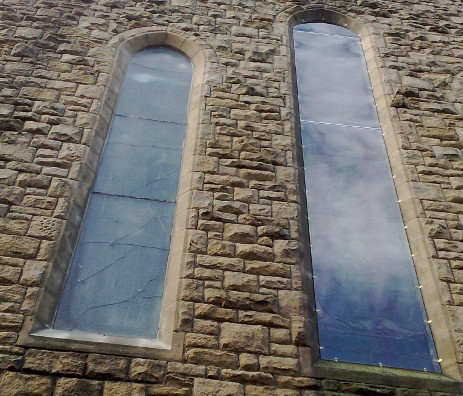 This photo shows the inside view of a window we removed, re-leaded and replaced back to the church. Then covered the outside with polycarbonate to prevent any further vandalism.